Best Minimalist Dress Shoes for Men 2023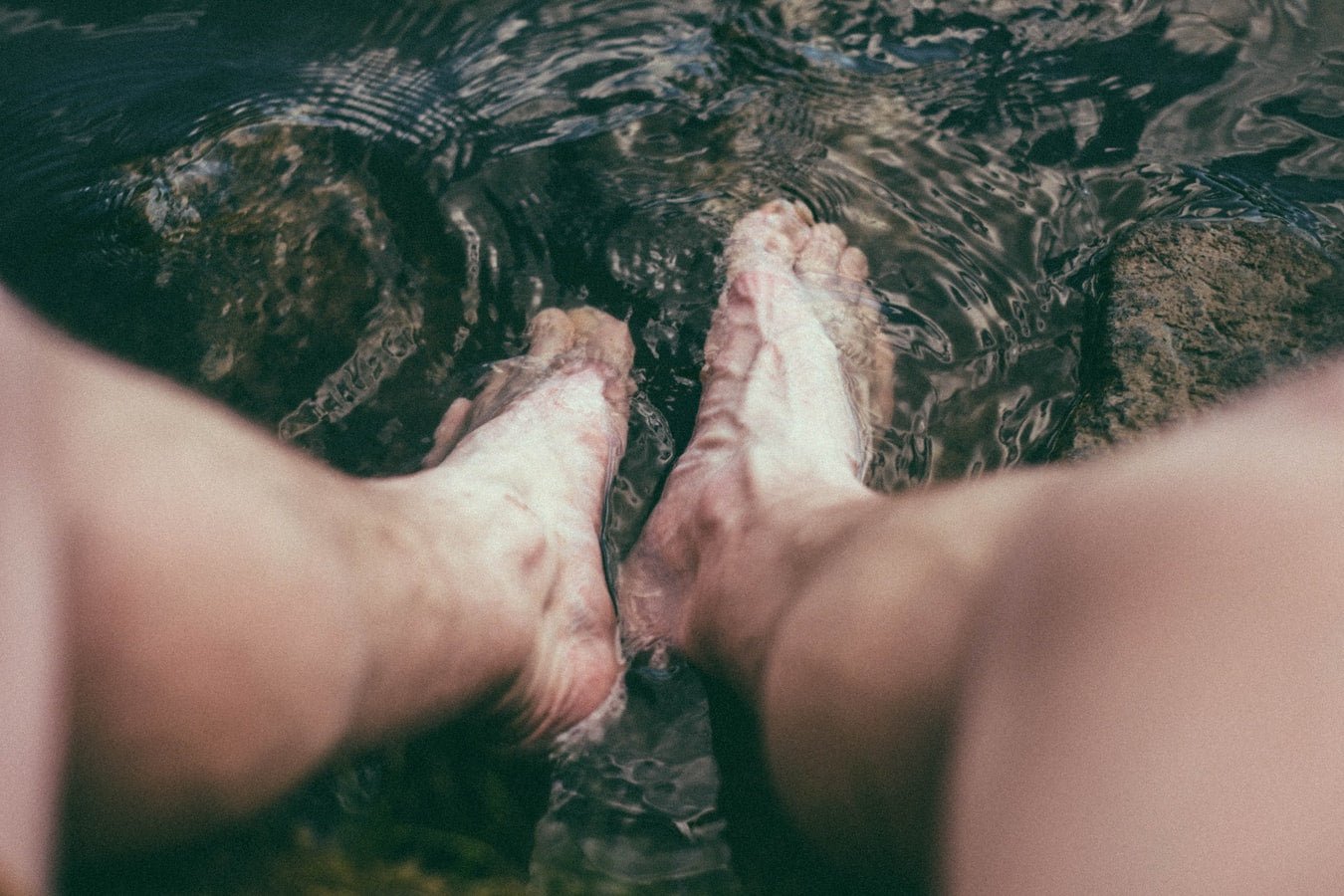 If you're attending a wedding or formal event and you want to ditch the tapered toe boxes and heels of traditional dress shoes and still look formal, minimalist dress shoes are the answer!
Whether you wear minimalist shoes regularly or are looking to give them a try for the first time, you've probably heard about their comfort, flexibility, and how they help maintain a natural gait and posture.
To help you choose the perfect pair of minimalist dress shoes for your needs, we've listed 10 of the best dress shoes for men in 2023. We've also listed a few factors that you need to take into consideration to ensure the best bang for your buck.
Let's jump right into it!
Factors to Consider When Buying Minimalist Dress Shoes
Buying suitable shoes isn't easy. People have different foot types, and the variety of brands and models makes the process even harder. 
When it comes to minimalist shoes, there are some factors you need to consider before making a purchase decision, namely:
Your Foot Type
Even though minimalist shoe manufacturers try to make shoes that fit everyone, you still need to consider your foot type. 
Our feet are different in several aspects, such as length, width, volume, and shape. What works for one person may not work for the other. 
That's why identifying your foot type will help you pick your minimalist shoes.
For instance, if you have mountain feet, you should look for shoes that slope after your big toe. If your feet are plateau or square, it would be best to opt for shoes that have enough room for your outside toes.
Material
Minimalist shoes are available in various materials for different needs and preferences. Leather and suede are the go-tos if you prioritize durability and appearance. They're a bit costly, though.
If you're tight on budget, synthetic materials are a good option, but they're less durable. In case you want to contribute to our planet's health, you can go for vegan-friendly materials.
Flexibility
Traditional dress shoes are famous for being stiff and uncomfortable. After a long day of walking and standing in them, your feet usually feel swollen and sore. 
That said, when picking minimalist dress shoes, ensure they're flexible enough and don't restrict micro-movements. 
If you want to feel like walking barefoot while still looking chic, your minimalist shoes should flex longitudinally and torsionally.
10 Best Minimalist Dress Shoes for Men
We made a list of the 10 best minimalist dress shoes for men. We'll give you a closer look at each shoe and why we think it's worth a spot in your wardrobe.
OAKA Dress Shoes
We can confidently say that our OAKA dress shoes are our top pick for the best minimalist dress shoes for men, but why?
We came up with a creative approach to designing dress shoes. The idea is to reinvent classic dress shoes using cutting-edge technology and vegan-friendly materials. 
We've removed everything that makes traditional dress shoes stiff and uncomfortable to create a pair of minimalist dress shoes that are healthy, flexible, and stylish.
The faux heels make OAKA dress shoes look like traditional dress shoes from the outside. However, the heel is derived from unique cutouts that allow your feet to be flat on the ground.
With a zero-drop inner sole, the shoes feel like walking barefoot, rather than feeling the stiffness of traditional dress shoes. Further, the shoes are flexible and collapsible, making them the ideal option for travelers tight on space. 
Moreover, the upper is made from flyknit fibers that minimize production waste, unlike regular cut-and-sew manufacturing processes. OAKA dress shoes are also slip-on, eliminating the need for laces.
Ahnisa Bindu 2 Barefoot
Looking for a vegan-friendly pair of minimalist shoes? The Ahnisa Bindu 2 barefoot shoes are a great option. The shoes are designed by physiotherapists, made from vegan-friendly materials, and feature thick durable soles.
Ahnisa crafted this shoe from CF+ material that provides excellent water resistance from the outside and moisture-wicking properties from the inside. That way, your feet stay dry in wet conditions.
What's more, the CF+ material is extremely durable, so these shoes can withstand the rigors of walking or standing all day.
The shoes boast flexible and durable German Lifo+ soles that provide extra support and comfort. Besides, the toe box allows your toes to spread naturally, offering a barefoot walking experience.
Vivobarefoot RA II
The RA II from Vivobarefoot is a popular minimalist dress shoe with a sleek and stylish design. It's suitable for both casual and formal occasions. It's crafted from high-quality wild hide leather. 
The shoes feature thin flexible 3mm cork insoles topped with anti-bacterial layers. Moreover, the Lifestyle outsoles offer maximum protection and sensory feedback. 
Besides, the shoes are foot-shaped, providing natural foot freedom and flexibility. They're wide enough to allow stability, and thin enough to let you feel the urban environment.
GROUNDIES Milano Men
The Groundies Milano Men are classic leather minimalist shoes that combine comfort, style, and versatility. They work very well for formal and casual occasions.
The shoes are made of soft cowhide leather that offers durability and a premium feel. On top of that, the thin TrueSense GO1 soles provide excellent ground feedback, flexibility, and the feeling of walking barefoot. 
The shoe's zero-heel-to-toe design supports proper posture, ensuring comfort throughout the day. Another key feature of the Groundies Milano is the spacious toe box, as it accommodates natural toe movement and splay.
Joe Nimble bizToes
The bizToes from Joe Nimble are classic work minimalist shoes that suit formal and casual events. The upper is made from smooth cowhide leather that provides maximum comfort and breathability.
Moreover, the lining is crafted from soft calfskin leather. The material is wrinkle-free and kind to feet. The shoes also boast a removable Joe Nimble Business footbed, providing premium cushioning for extra comfort.
Joe Nimble bizToes are zero-drop, like most minimalist shoes. This allows for great flexibility and natural movement. 
Xero Shoes Alston
The Xero Shoes by Alston are stylish versatile shoes that combine a minimalist design with everyday functionality. Whether you wear them to work, a casual night out, or a wedding, they won't disappoint.
Made with a full-grain leather upper, you can wear these shoes as they are, or wax them for a shiny look. The shoes feature zero-drop soles to maintain a natural gait and posture. Besides, the thin and flexible FeelTrue rubber soles provide excellent traction on different surfaces.
The removable insoles also contribute to the shoe's natural feel while promoting proper foot form and strength. The toe box is wide enough to provide room for your toes to wiggle and ensure comfort and balance.
ZAQQ BRIQ
If you're a classic shoe enthusiast looking for timeless minimalist shoes, look no further than the ZAQQ BRIQ. 
ZAQQ created these shoes with an unconventional approach. They took their classic derby shoes as a model. They renovated the main elements of their classic shoes and crafted a barefoot minimalist version with a luxurious look and comfortable fit.
Thanks to the rubber soles, these shoes help maintain normal posture, protect joints, and relieve spinal pressure. At the front, the shoes are spacious and allow toes to move freely. 
Made from natural high-quality materials, BRIQ shoes provide optimal support for movement while running. The shoes are also breathable and have moisture-wicking properties to keep your feet cold and dry during the rain.
Lems Nine2Five
The Lems Nine2Five is a healthy and lightweight minimalist oxford that suits casual and formal occasions. It boasts a full-grain leather upper that adds a touch of durability and sophistication. The material is aesthetically pleasing and molds to your feet over time to provide a custom fit. 
The shoe also has a zero-drop design to encourage natural movement and maintain proper posture. The flexible IBR outsole also keeps your feet light and comfortable.
In addition, the toe box is wide to accommodate the human toe shape, restoring normal toe alignment and mobility. The shoe comes with a removable moisture-wicking PU insole to keep your feet dry and improve overall durability.
Drifter Leather Derby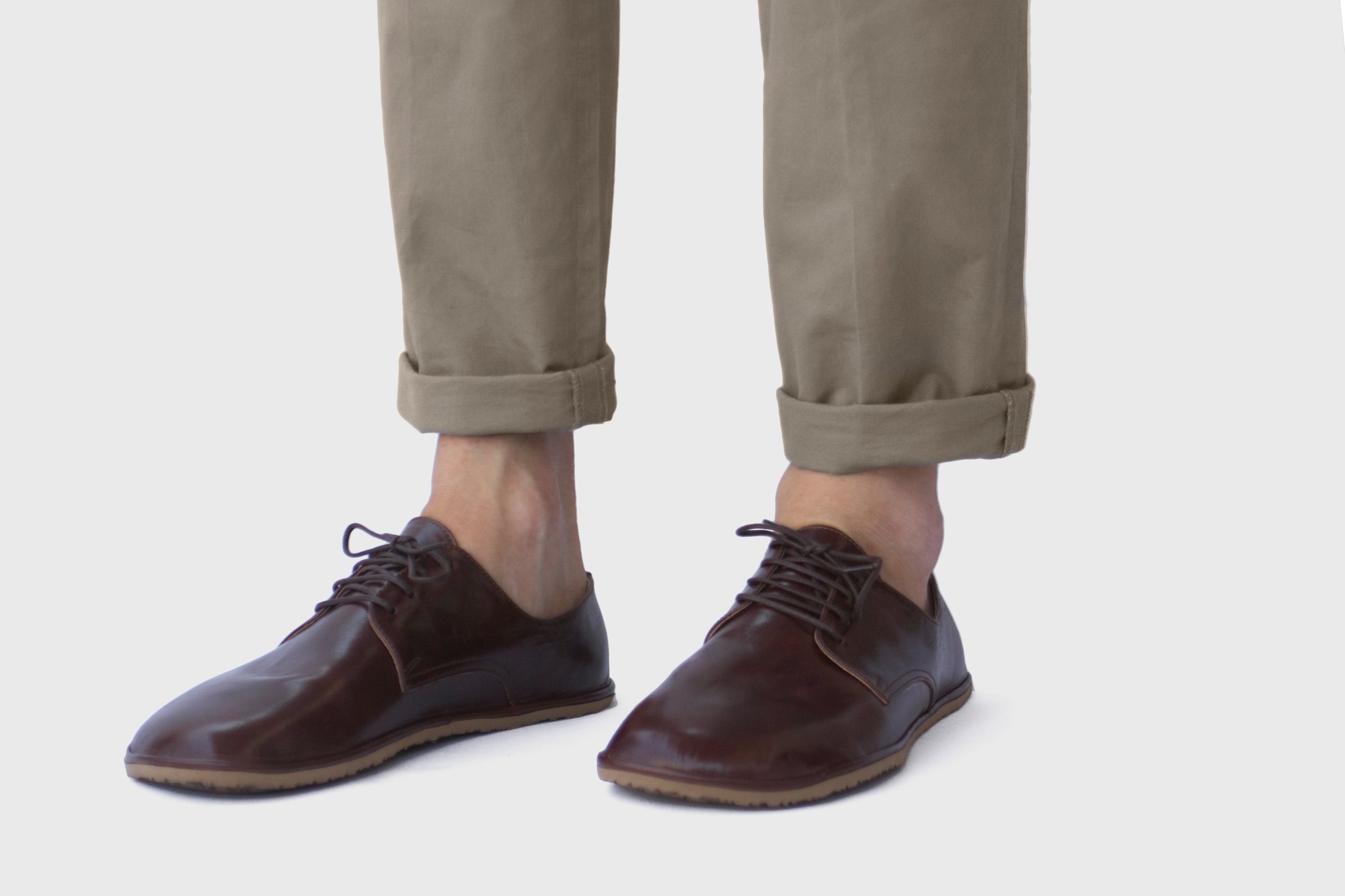 Drifter Leather is a Greek footwear brand specializing in handcrafting minimalist shoes. Most of their products are made-to-order to ensure customized fit and superior comfort. Let's take their Plain Toe Derby as an example.
The shoe's upper is made from soft leather to create a fancy look without compromising comfort and flexibility. The footbed features a leather layer and a flat foam cushion. The flat design keeps your feet and toes at the same level, which mimics walking barefoot.
The outsole of the Drifter Leather shoes is crafted from Vibram rubber to provide a comfortable grip on different surfaces. The rubber is also lightweight, flexible, durable, and comfortable.
We appreciate the custom fit approach by the Drifter Leather brand as it offers the most authentic barefoot experience. Plus, there are extra features available as per your request. For instance, you can add a 0.5-inch cushion if you want a slight elevation to your heels.
Be Lenka Barefoot Shoes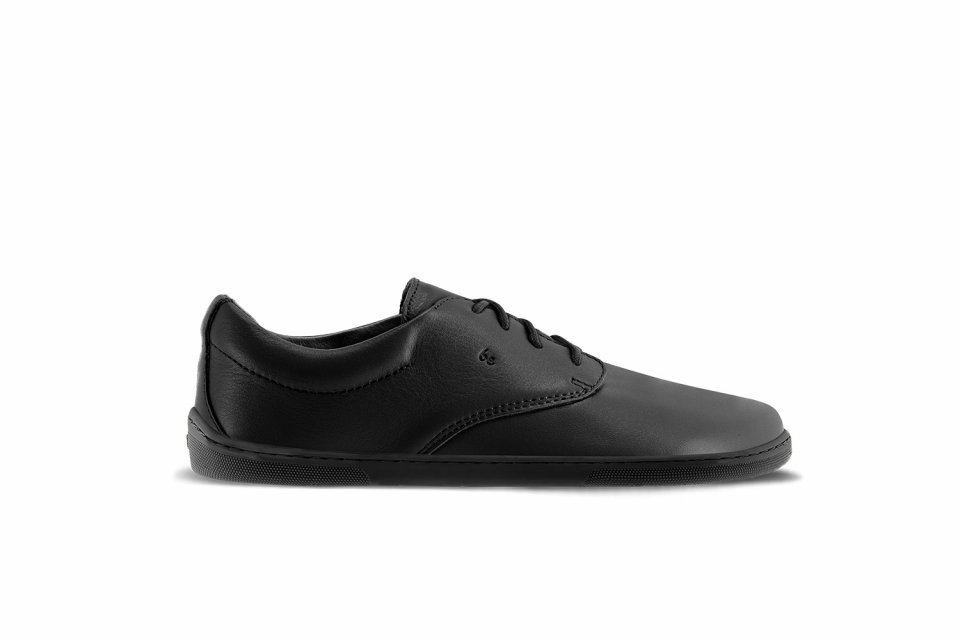 Be Lenka is one of the most versatile minimalist shoe brands out there. They offer various styles and designs in all sizes to fit every foot. Let's take the Be Lenka Cityscape as an example.
The shoe's upper and lining are crafted from premium Nappa leather. This gives a classic look that's suitable for formal business events and casual nights out. The EverydayComfort insoles are made from PU for extra comfort, durability, and flexibility.
In addition, the shoes have everything you need in minimalist shoes. The zero-drop sole design helps maintain normal body balance and a natural gait. 
The 4mm thin soles stimulate foot nerve endings and give you an excellent feel for the ground. The soles are flexible and lightweight, allowing free movement and ensuring better tendon and muscle function.
Summing Up
While traditional dress shoes look fancy and stylish, they're often stiff and uncomfortable. Luckily, you don't have to deal with pain and discomfort to look classy, thanks to minimalist dress shoes.
Our list features some of the best minimalist dress shoes for men in today's market. Whether you prioritize comfort, style, or eco-friendly material, you'll find something that suits your needs.
---