Best Travel Shoes for Men 2023
Picture this: you're preparing for your next trip and you're feeling a jumble of excitement and nerves. You can't wait to explore your new destination, but at the same time, you're worried you might pack the wrong things for your trip, like inappropriate footwear.
Whether you're exploring a new city, spending time at the beach, or going for a hike, you'll likely be on your feet for a long time. That's why opting for a stylish but uncomfortable pair of shoes doesn't sound like a good idea.
Not to worry, we've got you covered. Because here at OAKA, we know the importance of quality footwear when traveling, we rounded up the five best travel shoes for men.
Let's dive in!
What to Consider Before Buying Travel Shoes
Let's face it, we've all tried those fancy shoes that look amazing. Yet, a couple of minutes later, you start feeling your toes start to tingle with pain.
The good news is that looking good doesn't always have to be painful. You can have both comfort and style by picking the right type of footwear.
Looking at today's market, it can be challenging to pick suitable travel shoes. So, we put together a few things to consider when buying your next pair of travel shoes.
Comfort
Comfort is probably the most crucial factor when choosing travel shoes. You'll be walking and standing for long hours. That's why it's essential to pick something that fits well and provides enough support.
So, make sure to look for comfort features like cushioned insoles, arch support, and enough wiggle room for your toes.
Versatility
While traveling, you'll encounter various situations, from outdoor adventures to exploring urban areas. That's why you need something that suits different environments and activities.
For instance, comfortable and stylish sneakers would be an ideal choice for walking city streets, hiking, and sitting in restaurants. Waterproof shoes are also handy as they can easily manage dry and wet terrain equally well.
As such, we believe that versatility is another essential factor to consider when shopping for travel shoes.
Durability
If you're traveling for a few days, you might think about going for cheaper shoes. However, this is a common mistake most travelers make. Cheap shoes tend to be less durable, which means you'll likely end up buying another pair or two during your trip.
To avoid this, we recommend you look for travel shoes that are built to last. Opt for shoes made from leather or synthetic materials that can withstand the rigors of travel. You should also pay attention to construction quality, such as robust soles and reinforced stitching.
While you don't need to break the bank for your travel shoes, you still need something that lasts. We feel that investing in high-quality shoes will save you money in the long term as you won't need to change them frequently.
Easy to Pack
Space is another factor to consider when shopping for travel shoes. Depending on your trip, you might not be able to pack more than one pair of shoes.
In that case, you need to opt for foldable or collapsible shoes if you want to fit in more than one pair in your luggage. You should also look for shoes that match different outfits.
5 Best Travel Shoes for Men
If you're struggling to pick your travel shoes, we've listed five of the best travel shoes for men. Whether you prioritize style, comfort, or flexibility, you'll find something that fits your footwear needs.
Sometimes you need to travel with dress shoes and there's one thing that comes to mind when thinking about traditional dress shoes: their stiffness! The stiff soles and inflexible leather eventually lead to foot pain and discomfort.
Luckily, our OAKA designers follow an innovative approach to footwear by redesigning traditional dress shoes with vegan-friendly materials to prevent stiffness and pain.
With a zero-drop inner sole, OAKA shoes keep the toes and heels at the same level, so you feel like you're almost walking barefoot. Why is that beneficial? Because traditional heels disrupt our natural gait and lead to posture problems in the long run.
Although laces are essential for dress shoes, you don't need to tie them. The OAKA's faux laces are directly attached to the shoes. This feature allows you to slip the shoes on and off without wasting time tying and untying your laces.
The upper is made from lightweight flyknit mesh fibers that are lightweight, flexible, and breathable. The flyknit fibers also minimize production waste.
All in all, we think our shoes are the best option for traveling. With a modern design, vegan-friendly material, zero drop, and flexible soles, these shoes provide everything you need to look stylish and feel comfortable.
Pros:
Vegan-friendly materials

Faux laces

Machine washable

Flexible and easy to pack
Cons:
Available in two colors only
Hoka One Men's Clifton 8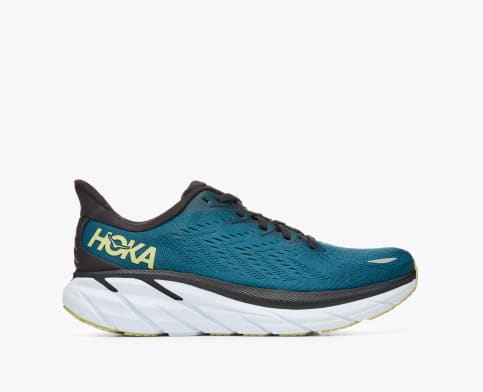 The Hoka One Clifton 8 is one of the best daily training shoes on the market. With a simple yet sleek design, the Clifton 8 is known for its narrow fit, lightweight, and flexibility.
The shoe comes with a meta-rocker midsole to provide pain-free, smooth transitions. Plus, it has smooth and soft cushioning with well-crafted EVA foam. The shoe is breathable and perfect for both running and exploring the streets.
We also like that the Clifton 8 also comes with an active foot frame that ensures a snug fit. The design locks the heels well to provide extra arch support. Despite the lightweight design, the Hoka Clifton 8 is durable and can handle up to 300–500 miles on the road.
Overall, we believe that the Clifton 8 is an excellent choice if you're looking for cushioned, comfortable, durable, and efficient shoes for traveling.
Pros:
Lightweight

Great cushioning

Breathable

Works best for running and training
Cons:
Not suitable for speed

The narrow fit isn't for everyone
Allbirds Tree Dasher 2
Allbirds are famous for using environmentally friendly materials to manufacture their shoes, and The Tree Dasher 2 is no exception. These lightweight shoes are made from eucalyptus tree fiber, a sugarcane-based EVA midsole, and a natural rubber outsole.
Our OAKA footwear experts consider the Tree Dasher 2 a stand-out when it comes to versatility. That's because it makes a great crossover option for running, casual wear, and walking.
These shoes are praised for their comfort and supportive design. The SweetFoam midsole offers a supportive and comfortable platform for light workouts and standing for long periods. The upper is made of a soft eucalyptus mesh that offers a sock-like feeling and excellent breathability.
All in all, we feel that the Allbirds Tree Dasher 2 is a great choice if you're looking for a casual, comfortable, and eco-friendly shoe.
The main downside is that it isn't the best for long runs because the mesh upper doesn't allow the laces to tighten as much as other types of running shoes. This can cause the foot to feel loose inside the shoe, which might result in blisters.
Pros:
Environmentally friendly materials

Comfortable and breathable 

Good for working out and casual wear

Suitable for wet roads
Cons:
Not optimal for long runs

Not suitable for narrow feet
On Men's Cloud 5
Looking for a fusion of style, class, and performance? Look no further than the On Men's Cloud 5.
Starting with the upper, the shoe boasts a flexible polyester material that provides excellent breathability and support. This lightweight innovative design ensures your feet stay cool and dry throughout the day.
We especially like that the midsole boasts the signature CloudTec system which offers a soft, stable, and responsive ride. Furthermore, the shoe features a Speedboard plate which enhances energy return and prevents excessive twisting while walking or running.
On the flip side, we don't like the shoe's durability for two reasons. First, the forefoot foam tends to scuff near the toes due to the lack of rubber coverage. Second, the toebox mesh isn't durable enough to withstand the rigors of long runs.
In conclusion, the On Cloud 5 is a versatile running shoe that fits every need. With its responsive midsole, breathable upper, and lightweight design, the shoe offers a balance between comfort, style, and performance.
Pros:
Extremely lightweight

Breathable upper

Speed and regular laces

Sleek and modern design
Cons:
Outsole tends to catch pebbles

Not the best in terms of durability
New Balance Fresh Foam Cruzv1
Looking for lightweight sneakers with a retro feel that goes well with casual wear? The Fresh Foam Cruzv1 from New Balance is worth checking out.
The upper is constructed from soft engineered mesh that offers both comfort and durability. The mesh also offers excellent breathability to keep your feet cool and dry all day long.
For us, one feature that stands out is the sole unit. It's made from New Balance's Fresh Foam X material, which provides soft cushioning and more bounce. The full rubber outsole adds extra grip, which is evident when transferring from one surface to another.
It's worth noting that many users say this shoe has a narrow fit, which might not be ideal for wide feet. For a quick fix, we recommend that you go up a half size.
Another drawback is that the mesh isn't designed for heavy-duty hiking and rough terrain. As such, the shoe is suitable for streets and beaches, but not for rocky surfaces.
Pros:
Excellent breathability

Smooth transitions

Easy to pack

Lightweight
Cons:
Not the best for wide feet

The mesh is semi-durable
To Sum Up
Choosing suitable travel shoes for men can be daunting if you don't know what to look for. While we believe that there are various factors to consider, we feel that the most critical is foot health.
Our footwear review brought you several high-quality options to consider, but we truly feel that our OAKA shoes are the finest out there. Their zero-drop design and environmentally friendly material will keep your feet in good shape while still looking stylish on your next trip!
---